Your No.1 Fertility Resource!
Are you trying to Get Pregnant? 

Worried About Why It Hasn't Happened Yet?

Are You Attempting IVF, IUI and doing everything possible to improve that result?

Are you dealing with complications such as PCOS, Low Ovarian Reserve, Low AMH and High FSH, Thyroid issues or Unexplained Infertility?


I Can Help
By Paul J.O'Brien B.A., N.C.E.H.S., Dip. Acu., Adv. Dip. OBB, Cert Clin. Med, Cert.CHM, M.AFPA, M.ETCMA, M.C.Th.A.
Fertility issues are abundant in today's society. There is no greater longing than that of a couple who have been trying to conceive a child and yet have had no success. It is often at this delicate point that I meet most of the couples I have helped. I would encourage you, if you have not already done so, to read their words and learn from their shared experience. 
While the journey may not at times be easy, a path can be found and hope should be held tight in the heart. In the many cases I have seen, that has been the resounding lesson I have been taught – there is a reason why things have not happened yet and if there is a reason there is often a solution that will get you pregnant. 


On this website, I will share with you those solutions. I will show all the different paths that can be taken to pregnancy and to delivering a happy and healthy baby, and I will teach you to see clearly where you are starting from and which path my best suit you, and I will walk with you and lead you on that journey.
On the right hand side or listed under "menu" on mobile devices, you'll see a series of headings covering the many problems that can affect your ability to get pregnant:  
Fertility - This section covers general fertility information, providing you with a solid foundation in how you reproductive section works, tips and tricks to naturally enhance fertility and of course, my top infertility treatments. 
Fertility Foods - This section covers a range of topics from how food affects conception both positively and negatively, which foods to eat, which foods to avoid and some of my favourite fertility enhancing foods and recipes.
Ovarian Problems - Western medicine focuses on a great many issues within this complex system, the most common of which are: • Age • Hypothalamic Amenorrhea • Hyperprolactinemia • Luteal Phase Defect • POF (Premature Ovarian Failure) and more. In this section I'll explain exactly what each of these, how they may affect your ability to conceive from a Western and Eastern medical point of view and most importantly what you can do restore your natural baby making ability!
PCOS (Polycystic Ovarian Syndrome) - This extremely common problem is the bane of many women's lives even outside of trying to get pregnant. In this section I'll walk you through exactly what to do if you have been diagnosed with PCOS and show you step by step, what foods to eat, what exercises to do (and which to avoid!!!), and more. 
Thyroid Problems - nearly a quarter of the patients I see on a weekly basis have problems with the their thyroid function that negatively impacts their chances of falling pregnant and increases the risk of miscarriage. Here I'll give you the answers your doctors may not have and show you how to resolve this problem so it stops getting in the way of you getting pregnant and staying pregnant!
Fallopian Problems - Problems with the fallopian tubes account for 14-26% of infertility diagnoses are often resolved by surgery in Western medicine, or bypassed within Assisted Reproductive Technology (ART) and fall into main categories: Blocked Tubes and Endometriosis.
Blocked Tubes - if there is a blockage in the fallopian tubes then it is difficult, if not near impossible, to naturally conceive. Thankfully, in this section I will tell you exactly what to do for "a total effective treatment rate of 90%," and how to increased implantation rates more than 5 times greater than the average!  
Endometriosis - discover the real facts about how endometriosis develops, why Western Medicine doesn't offer great options for fertility and getting pregnant and what YOU CAN do to eliminate endometriosis and get pregnant. Packed with foods, exercises, pressure points, mental emotional techniques and more, you'll learn everything you need and the best steps to take. 
Unexplained Infertility - I'll be really honest with you. I hate that term. Because that is a lie. There is NO SUCH THING as unexplained infertility - that's just a diagnosis given to those that Western Medicine has failed. In this section, I'll show you how to figure out the REAL reason as to why you haven't conceived. There will be no doubt. Only answers and solutions to get you the happy, healthy baby you want. 
Infertility - Here I'll examine the other lesser known problems such as • Uterine Fibroids • Uterine Polyps • Cervical Mucus Imbalance • Pelvic Inflammatory Disease and • Natural Killer (NK) Cells and, of course, I'll tell you exactly what to do in these situations.
Male Factors - between 35 percent and 40 percent of conception problems among couples are actually caused by male conditions. This can range from poor sperm motility, morphology, volume, count and concentration. In this section I'll explain how each of these problems develop and the simple everyday steps you can take to fix them, like eating 3 brazil nuts with your breakfast ;-) 
Miscarriage Prevention - my work doesn't end with getting you pregnant - now we need to keep you pregnant. In this section I'll guide you through the common causes of miscarriage and how to prevent it though foods, prevention pressure points, simple stress reduction and more (quick tip - put down the coffee!) 
Pregnancy - in my clinic, I keep working with my patients through their pregnancy - dealing with everything from anemia through morning sickness and Oedema to Urinary Tract Infections.  
Finally, I also have some additional sections that may be of interest to you including: 
About Me - why I do this and why I am qualified to help you. Take a behind the scenes look at my clinic and the work I do with my patients - you may even learn why many of them call me "Batman". ;-) 
The TCM View - an explanation of how Traditional Chinese Medicine works in relation to getting pregnant and staying pregnant. Want to know why I look at tongues or how a TCM physician can tell everything about you from you period - this section will give you the answers. 
In the Media - I'm a little famous. Well, at least in Ireland. But it's okay if you've never heard of me. The reason for that is because I have my head stuck in my clinic and in my laptop working away to help people just like you. Here you'll find a selection of my media appearances; TV interviews, articles and interviews in the press, and a whole lot more. 
Downloads - Here you'll find a range of free e-books, pdf guides, videos, handouts and resources I give to my patients including the acclaimed; "The 9 Reasons You Can't Get Pregnant and What you Can Do About It!" and the,"Are You Secretly Sabotaging Your Your Chances of Getting Pregnant Special Report"

and a whole lot more.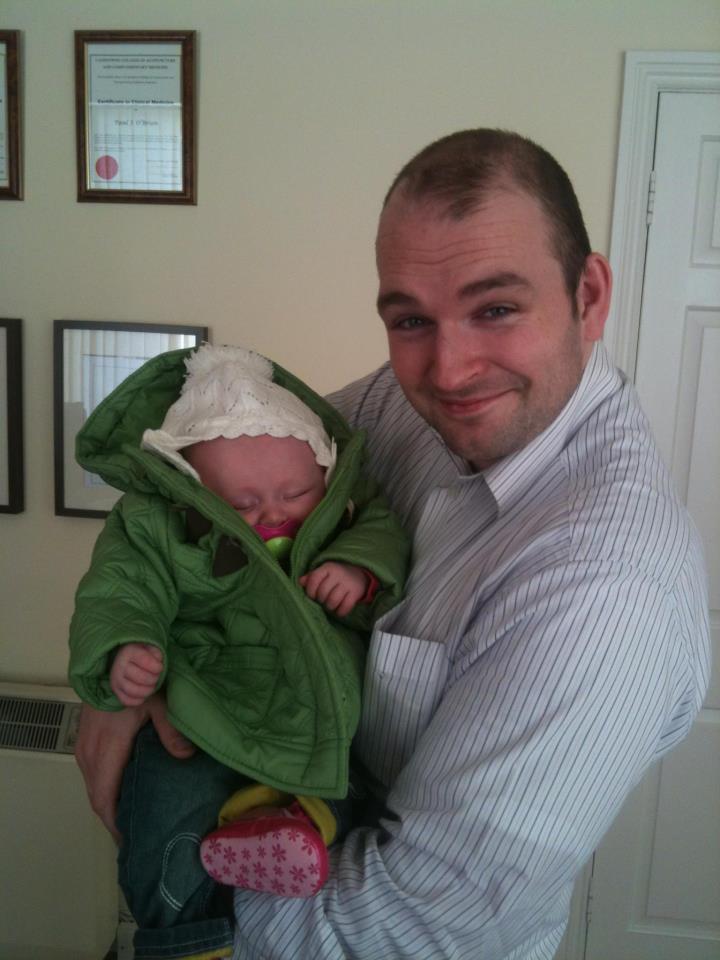 Feel free to explore this website thoroughly and learn about UrFertility, Traditional Chinese Medicine and most importantly how it can benefit you and relate to YOUR FERTILITY and help you GET PREGNANT and STAY PREGNANT. Simply select a heading on the right hand navigation bar and begin your journey to getting pregnant, health, harmony, and happiness.
Yours in health,
Paul J.O'Brien